Wall Signs - SA Series
Small-Medium Sizes
Up to 11" Widths
Arris System wall mounted signs come standard with PETG non-glare lenses as described below but the frames are compatible with essentially any flexible display material from .040" to .060" thick, including photopolymer, aluminum, acrylic, laminates and more.
Standard Assembly
7/16" (10.5mm) Depth
An aluminum frame assembly featuring a pull-out .040"-.060" PETG non-glare lens. Used for standard and custom size signs from 2.5"h x 4"w to 17"h x 11"w. Custom sizes also possible.
Add to the insert size 1-5/16" for overall width and 1/8" for overall height.
Product Literature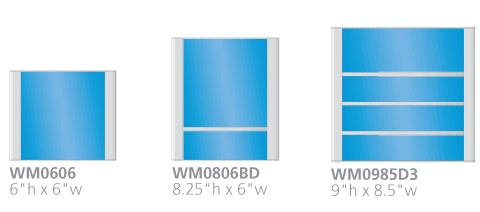 See brochure for complete product listing.