Overhead
Overhead – Wall Mount (OWM)
Overhead wall-mount signs are 7/16" depth Arris System Horizontal Configuration frames. Radius profiles are at the top/bottom of sign. Concealed mechanical fastening secures the sign to the wall surface.
The 1/16" non-glare lens is lifted & pulled from the frame using a suction cup tool, making graphics easy to update.
Overhead – Ceiling Mount (OCM)
Arris overhead ceiling-mount signs feature a modular aluminum mounting bracket that can either be flush mounted to a ceiling surface or is easily compatible with cable suspension. Bracket installation is fast and easy. The 1/16" non-glare lenses are lifted and pulled from the frame with a suction cup tool.
Features (2) 7/16" depth Arris frames assembled back-to-back.
Product Literature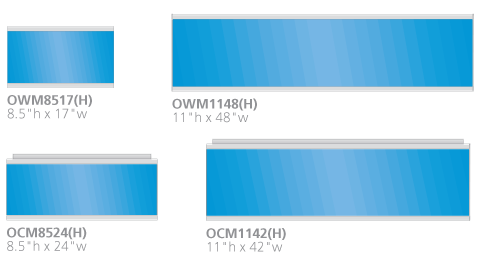 See brochure for complete product listing.